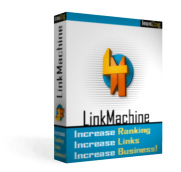 "Thank you so much for making such a phenomenal program, one that's easy to use and oh so functional."

Yvette M. Michaud
The Cleaning Lady, Inc.

"LinkMachine is an outstanding application. It's by far the easiest and most effective link management application I've tried."

Brad Justus
Shooting-Glasses-Guide.com

"I just want you to know that your program is FANTASTIC! I've been using it for about a week now and the interface is so easy to use. Everything I've been looking for in a link exchange program is right here in your free software."

Steve Johnson
Saviour PC

"LinkMachine is exactly what I had been searching for. It's fast, easy to backup your data, creates static, search engine friendly pages and best of all, I can manage all of my links quickly and with little effort thanks to the built in email forms. Thanks again!"

Craig W. Hadley
The Jewelry Bin

"I am very happy with the software and customer support. LinkMachine would be beneficial to any business."

Svetlana Gladkova
Amadeus Translations

"The LinkMachine program has been more than what I was looking for. Simple, straight forward and easy to install. Customer support has been very responsive too. I'd highly recommend it."

Jim Redington
MoveMeTo.com

"I can find and request link exchanges with content relative sites in no time... well worth the one time fee for this continued value."

Patrick Vincent
Vincent Computer Services

"LinkMachine is like having your own 'link exchange secretary'... you can set it and forget it!"

Enrique Armand
Cheap Trips Network

"As a small business person on a tight budget just starting several websites, LinkMachine was just the solution I was looking for... The software works well for a person who is not very technical, and creates professional looking link pages."

Beth Engel
Epic Merchandise

"Linkmachine has made link exchanges a breeze with an easy layout and powerful features. I give it an 'A'."

J.T. Goebel
Intense Development

LinkMachine Demo Homepage

---
Welcome! This is the homepage for the live demo of LinkMachine. You can log in to the demo admin page here:

LinkMachine Demo Admin Page

User e-mail: demo@linkmachine.net
Password: demopass

Note that the demo resets every 2 hours.

You can also view the link directory generated by the LinkMachine demo, here:

LinkMachine Demo Link Directory

Note that the demo link page uses an example page template; you can easily create your own LinkMachine page template to have your link pages match your site.