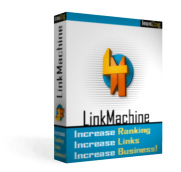 Guarantee

---
With LinkMachine you get everything you need to establish and maintain successful link exchanges. You also get a 10 day risk free trial of LinkMachine Premium, with its powerful tools that make it easy to find hundreds of quality, relevant link partners. Here's our guarantee.



10 Day Free Trial of LinkMachine Premium

---
You can install the full version of LinkMachine absolutely free. You also receive a 10 day free trial of LinkMachine's premium features. If you decide you'd like to continue using LinkMachine's premium features, you can upgrade to LinkMachine Premium at any time for $89.95. You can then use LinkMachine Premium indefinitely, on up to three different websites. Unlike other programs, there is no monthly subscription charge.


30 Day Unconditional Money Back Guarantee

---
At any time within thirty days after purchasing LinkMachine Premium you may cancel your LinkMachine account and the full purchase price will be refunded to you. All you need to do is contact us using the Request refund for upgrade purchase option on our support page. You don't have to include your reasons for deciding not to continue using LinkMachine, although any suggestions you could give us would be appreciated as we continue to improve our software.


Your Privacy Is Protected

---
No personal information that you give us will be shared with anyone else. Your e-mail address will only be used to send you information regarding LinkMachine.


Click here to install LinkMachine for free right now, with no risk!