Intuitive Interface

---
LinkMachine's interface was designed with both simplicity and power in mind. Easily keep track of all the sites you exchange links with, add new sites, and send e-mails. Check for any sites that no longer link to your site at the push of a button.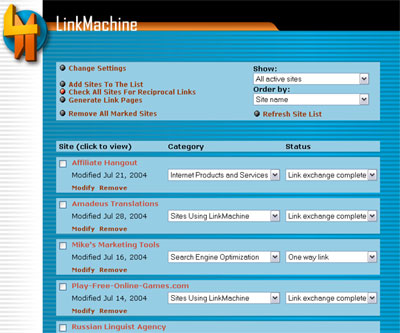 The control panel and site list.
Adding Sites

---
When you want to add new sites to exchange links with, LinkMachine gives you an array of choices. You can exchange links with other LinkMachine users automatically, without the need to exchange e-mails. You can add sites that link to sites similar to yours, or sites that link to another particular site (such as a competitor's site). You can import links from an existing links page, either by URL or by uploading the page's HTML file. You can also add sites of your choosing by filling out a simple form.

If you'd like, you can allow your site's visitors to submit links of their own to add to your links pages. These links will only be added once you've had a chance to review and approve them.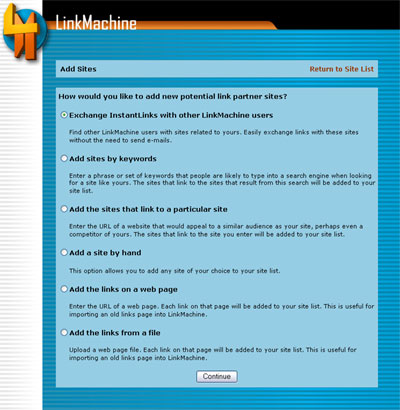 Adding sites to your site list.
Custom Link Pages

---
With LinkMachine you can easily generate link pages with a look and layout that perfectly matches the rest of your site. And LinkMachine places your updated link pages live on your web site immediately - no need to upload your link pages each time they change. Here are a few examples of link pages generated by LinkMachine.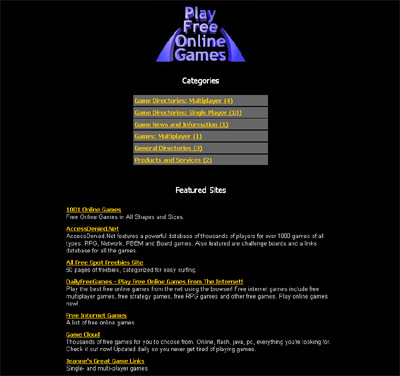 www.play-free-online-games.com


Click here to try out LinkMachine for free right now, with no risk!