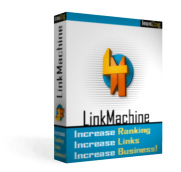 LinkMachine Documentation

---
Download and Install
Install LinkMachine and get it running in 5 minutes.

Getting Started
A step-by-step guide to using LinkMachine.

SEO Features
Learn about LinkMachine's Search Engine Optimization features.

Advanced Options
See what else LinkMachine has to offer.

Premium and SEO Tools
LinkMachine's Premium and SEO components: SEO Wizard, Rank Tracker, Site Manager and more.

E-mail Templates
Several sample e-mail templates.

Tips
Suggestions for getting the most out of LinkMachine.

Version History
See all of the improvements made to LinkMachine with each free update.

FAQ
Answers to frequently asked questions about LinkMachine.