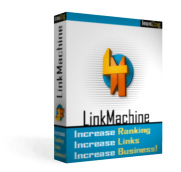 LinkMachine's Premium and SEO Tools

---
This section covers the additional tools that come with LinkMachine's Premium and SEO upgrade packages.

SEO Wizard
Analyzes your site and your competitors to give you detailed steps for increasing your site's search ranking.

Link Analyzer
Provides complete information about the incoming links to your site or to a competitor's site.

Rank Tracker
Graphs the progress over time in your site's search ranks, PageRank, number of incoming links, and more.

Site Manager
Easily manage LinkMachine on multiple sites.